Flower Decorations for your Wedding Cake
Most of the time, the florist decorates the cakes with flowers.  Only a few bakers prefer to add the flowers on themselves.
Here are some examples; whether you chose a simple or elaborate decoration, the flowers always adorn a wedding cake beautifully.
The curly willow added an unusual touch.
The small clusters of champagne grapes were perfect, as the wedding took place at Ponzi Vineyard.
This 4-tiered cake from Papa Haydn was elaborately decorated with white and cream roses, green hydrangeas and blue tweedia; the wreath at the base was surrounded by votive candles.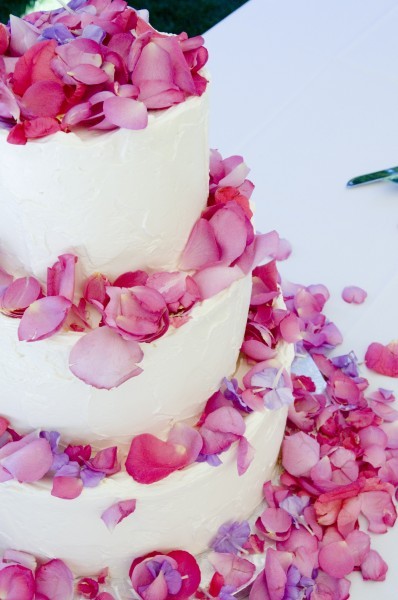 Petals of roses or other flowers are a simple option to decorate a cake.
The top of this 3-tiered square cake was simply decorated with a few orchid blossoms.