Flowers for the Head Table
Often the Bride and Groom choose unique flower decorations for the head table. For long, narrow tables, flower garlands are fabulous! But as you will see, there are many other choices.
At the Art Museum, the all the guests at the head table had a prime view of the ballroom.
The bride chose a wider, long head table for the bridal party. The arrangements in the tall pillsner vases were a great choice for the the magnificent Heritage Ballroom at the Governor Hotel.
Jennifer chose an oval table for the bridal party  for her reception at the Lawrence Gallery. What a perfect site for anyone who loves fabulous displays of art!
The Viewpoint Inn in the Columbia Gorge lends itself very well for woodland themes.  These fall arrangements, made in long narrow vases, covered with foliage, were interspursed with sprinkles of crab apples and acorns. Each napkin was decorated with a sprig of rosemary and a blossom of burnt orange James Storey orchids.
For this wedding at Garden Vineyards, the bride and groom requested that after the ceremony,  the chuppah be moved and placed over the head table.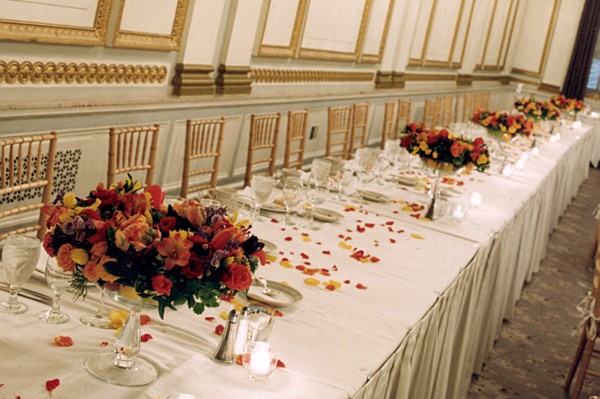 The long, narrow Chrystal Ballroom at the Benson Hotel lends itself well for this set-up of a long, wide head table.  Wreaths covered with bright spring flowers, decorated compotes that were filled with fruit.
Flowers seem to 'grow' out of the wheatgrass.