Tasty Tables for Thanksgiving!
Come join us and learn how to design unique seasonal centerpieces for Thanksgiving on Monday November 23 or Tuesday November 24.
Ideas to make arrangements in squashes, eggplants, cabbages, artichokes or vases will abound and you'll  create a stunning cornucopia:
Delight family and friends with a lavish focal point for your Thanksgiving table! This festive harvest arrangement combines a bounty of small fruits, berries and vegetables with flowers and lush foliage.  Unique, simple, and colorful!
Monday, November 23     or Tuesday, November 24    6:30 – 9:00pm    $75
Here are some examples of what you will learn and more ideas for centerpieces for this holiday. If you would like to order an arrangement for your Thanksgiving table, please call at 503-236-5829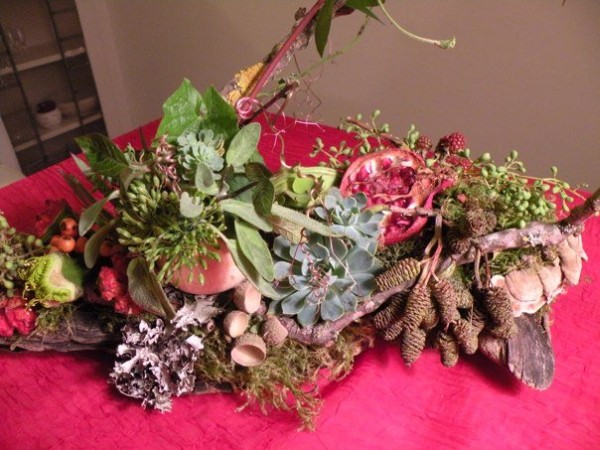 A seasonal woodland centerpiece
A lavish cornucopia
Saturated fall colors in a vase
A wreath sits on the rim of a compote, filled with seasonal fruits
An arrangement rests on a vase  filled with cranberries and ladies apples: a perfect seasonal touch!
Bright colored ranunculus and fun texture in  a container covered with baby artichokes
Sandersonia and texture in my favorite vegetable container – artichokes are the best!
A woodland log arrangement was fitting for the buffet table
A burnt orange lily topiary in a vase, lined with equisitum. A fabulous welcome arrangement for your guests – you can also use it as a centerpiece.
Do you like orchids? The rust colored James Storey orchids are perfect for a more formal centerpiece.