Workshop Pictures
Last week's 3 day wedding/event workshop was so much fun! Jessica and Natalie were from Portland. Laurie came from California and Elizabeth traveled from Texas and they both stayed at nearby B&B's.
As usual, it didn't matter that there were different levels of experience. Everyone was so talented and created fabulous arrangements. It was such a pleasure to share a lot of information and spend 3 days with all of you!
Thank you Laurie, for documenting the workshop! Here is a sample of everyone's work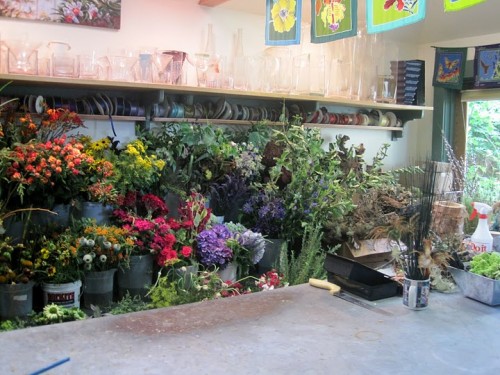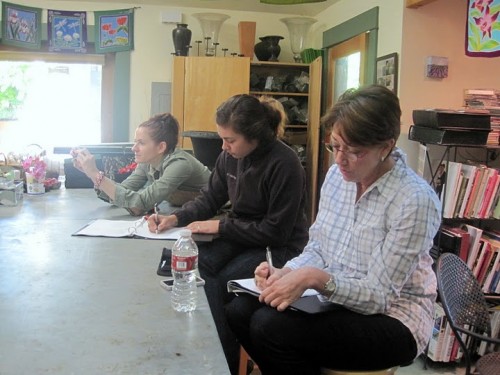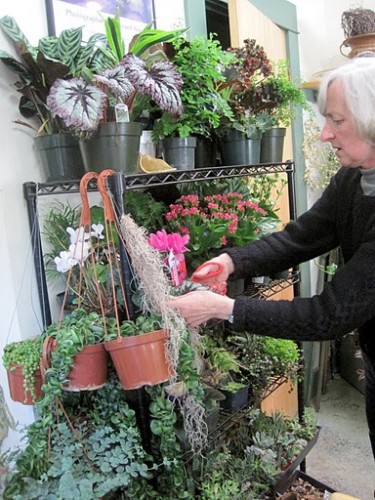 many houseplants with gorgeous foliage are omni present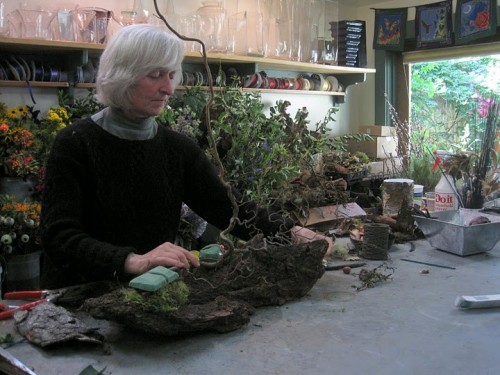 the first morning we explored many woodland ideas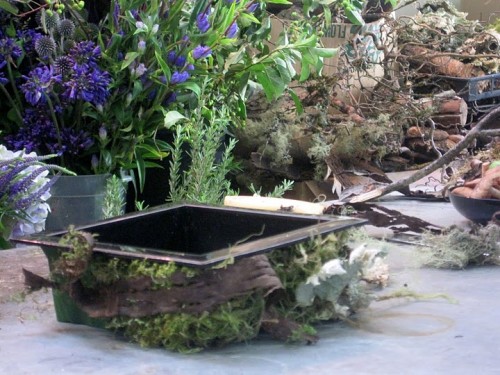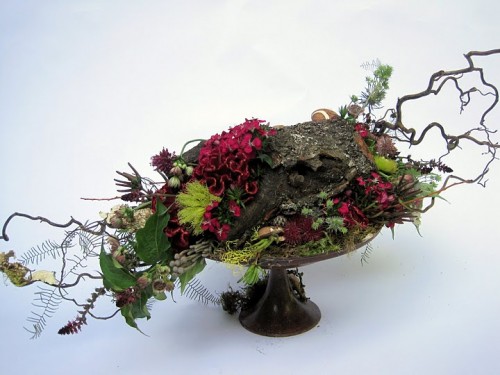 Laurie's woodland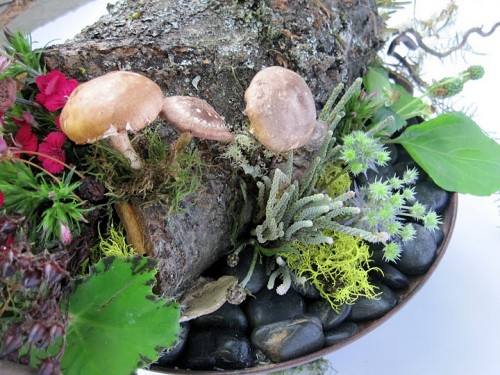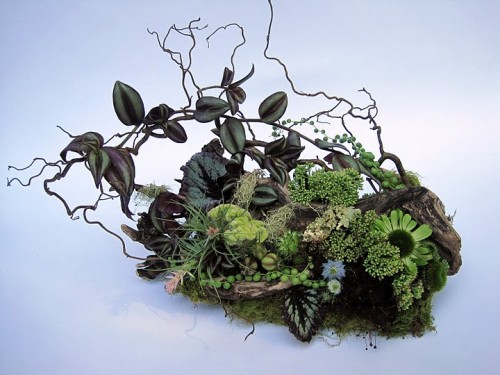 Natalie's woodland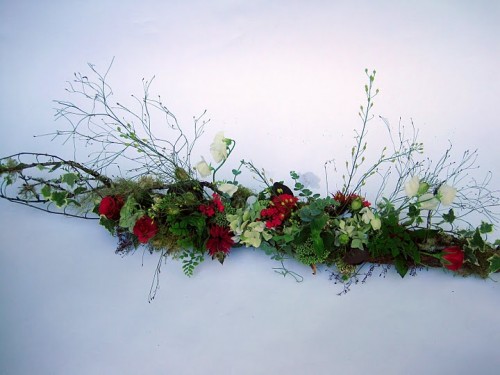 Elizabeth's woodland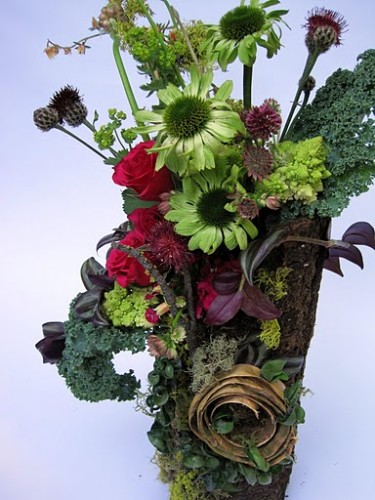 Jessica's woodland
More ideas for centerpieces: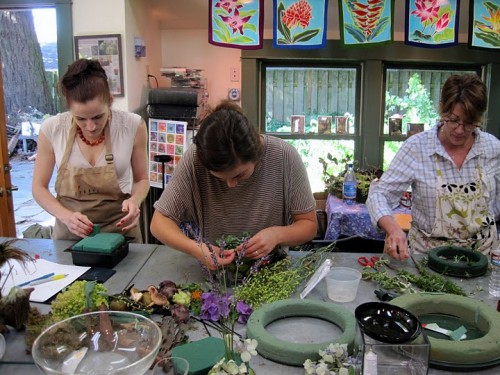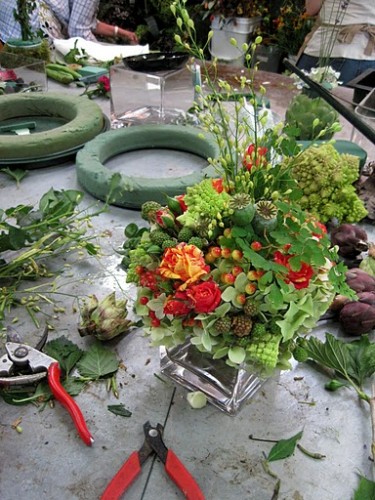 Natalie's centerpiece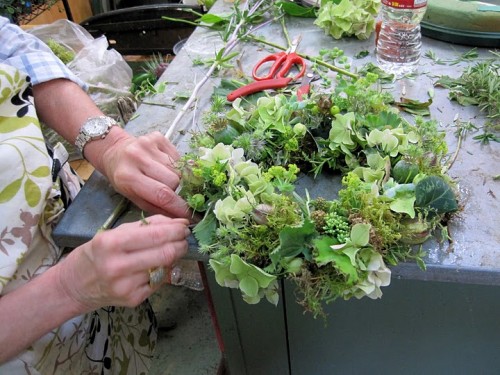 Elizabeth's wreath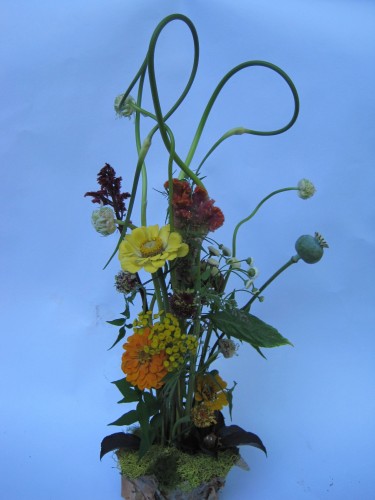 Jessica's centerpiece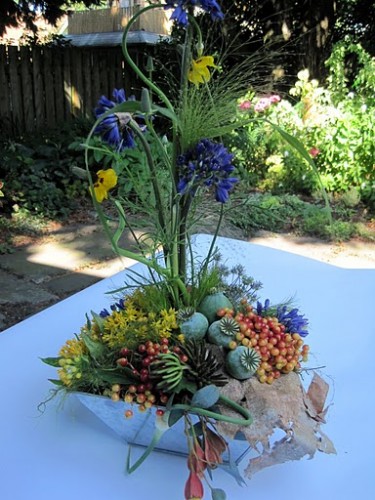 Laurie's centerpiece
The topic for the second day was ceremony flowers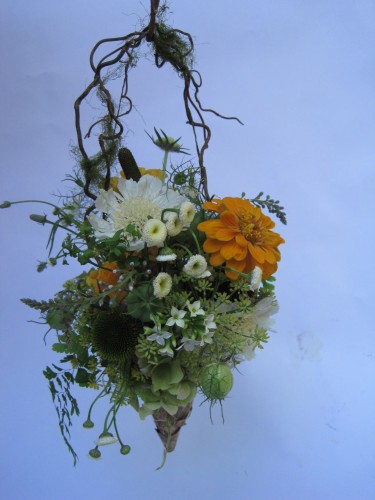 Elizabeth's cone arrangement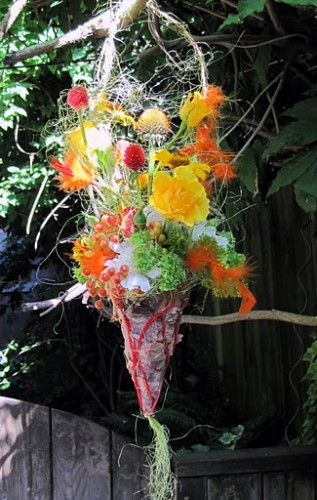 Jessica's whimsical cone arrangement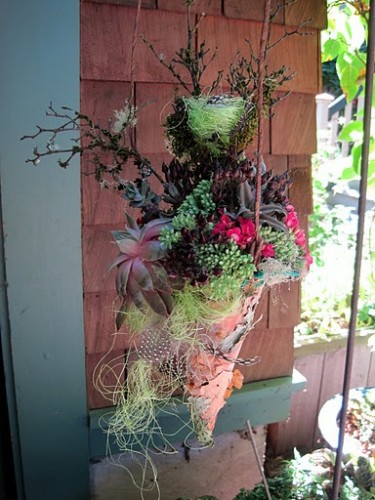 Laurie's woodland cone arrangement, complete with a small bird's nest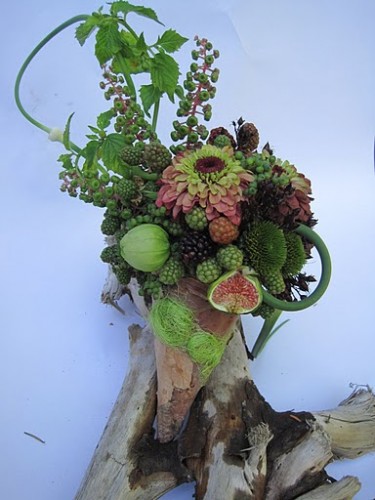 Natalie's cone arrangement
The third day whimsical and woodland bouquets as well as purses were on the program!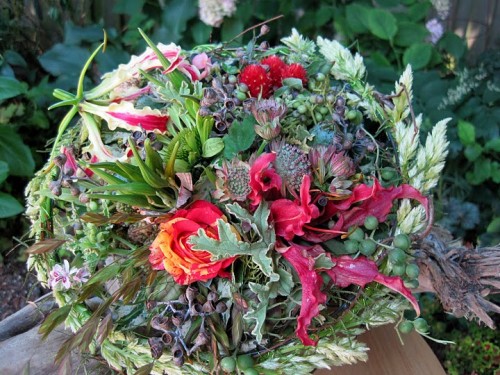 Laurie's whimsical bouquet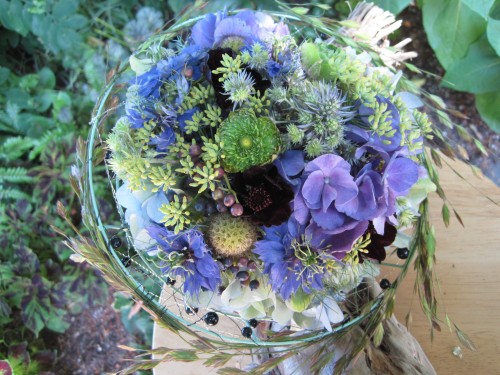 Natalie's whimsical bouquet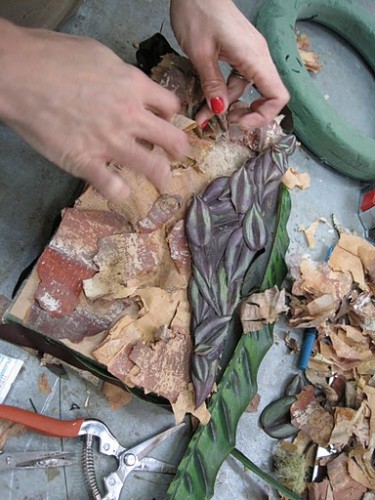 Jessica's clutch in the works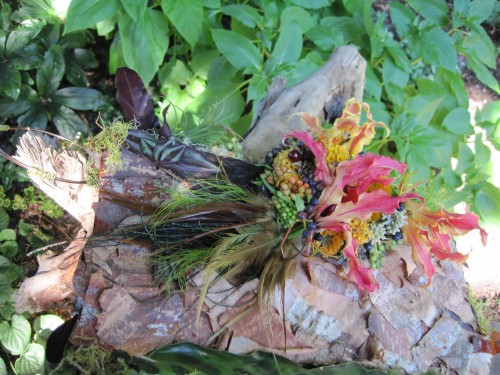 and the finished treasure!
Their testimonials
Spending time in Françoise Weeks' studio is a magical experience, where she weaves a bounty of foliage, flowers, fruit, vegetables and little bits of sticks and moss from the forest into enchanted arrangements. Walking into her studio, I was awestruck by the selection lined along the walls, all for me and my fellow participants to choose from for our own creations made under Françoise's guidance.
The day passes by at rapid speed. We started by getting to know the other students. Soon, sitting around the worktable, we watched the creations taking shape. Mixing tips and tricks learned in her years as a teacher, businesswoman and florist with detailed demonstrations for making the unique arrangements she is known for, we soon set about making our own versions of the morning lesson. Choosing from the huge selection of materials provided, we went to work. Everyone's creations were so different, imaginative and wonderful.
She guides with a quiet manner and gives great practical advice. I have been in the floral industry for many years and came away with so many time and money saving tips, and a renewed spirit of creativity.
The area where the studio is located in is very pleasant for a person travelling alone; lots of walkers and bicyclists out. I stayed at a B&B which is a 5 minute walk to her studio, and there are many casual eateries and coffee shops just a few minutes away too. From the airport, the light rail and bus was an economical and easy way to get to my lodging.
I can't wait to walk up the driveway, through the gate, into that wonderful studio, to be inspired again by Françoise!
Fleurie- flowers by Laurie Garza ,Reedley, California
Just completed my second floral design workshop with Françoise in her dreamworld studio. Three days with Françoise, and I'm completely reinspired in floral design and in life! Aside from being an incredibly talented artist who's portfolio includes hundreds of gorgeous weddings, she is an exceptionally effective teacher. She approaches her students much in the same way she weaves unsuspecting raw materials into art. She brings to mind the Michelangelo quote, ""
In every block of marble I see a statue as plain as though it stood before me, shaped and perfect in attitude and action
." When a group of students come together in her studio with differing skill levels and various work and life perspectives, she sees within each one a talented artist full of raw potential, ready to blossom before her. Filling the workshop with her old-world Belgian charm, Françoise shares her experienced knowledge generously, nurturing each student with a high level of individual attention. The next time I need a creative jump start and a dose of enriching food for my soul, I'll be back for another workshop! Merci Françoise!
Jessica Munn, Portland, OR
I read about Françoise and her classes on the internet. I was delighted to find that she had room for me in her class. It was three days of intense learning. Françoise is an amazing teacher. Her design style is so inspiring. I was happy by the small classroom size and we all enjoyed each other a lot. I can hardly wait to return and take another class from Françoise. I believe that I will incorporate many of the wonderful tips and ideas into my flower design.
Thank you Françoise for everything.
Elizabeth Marvin, Austin, TX