Hands-on Class in the Studio: Thanksgiving Centerpiece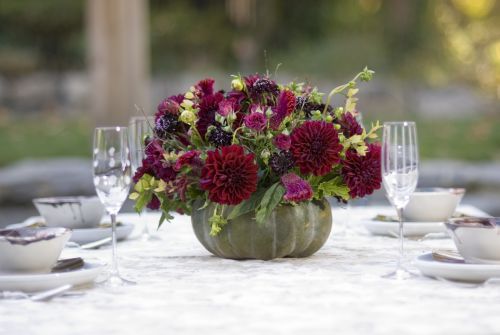 photos: Joni Shimabukuro
Delight family and friends with a beautiful centerpiece for this special holiday! Using a hollowed pumpkin, create a festive harvest arrangement by learning to mix small fruits and vegetables with flowers, foliage, and berries. Unique, simple, and colorful!
You will also learn many other ways to combine fruits, vegetables, flowers and texture for more delightful centerpieces.
Monday, November 21 6:30 – 9:00pm $75
To make reservations, please call 503-236-5829
http://francoiseweeks.com/classes
The hands-on classes are limited to 8 students per class and are conducted at Françoise's Studio – 2754 SE 33rd Place. Prices include flowers, supplies, use of tools, and best of all, your creation goes home with you! Receipt of your check (or payment with Paypal) for the full tuition secures your place in the class.
photo: Rebekah Johnson
photo: Rebekah Johnson
photo: Rebekah Johnson
photo: Rebekah Johnson
photo: Rebekah Johnson
photo: Becca Dryer
photo: Joni Shimabukuro
photo: Rebekah Johnson
photo: Joni Shimabukuro