Woodland/Wedding Workshop in Austin, TX on March 4-5

Joni Photo
Tuesday and Wednesday, March 4 & 5, 2014, 9AM to 4PM each day
Location: Mercury Hall
615 Cardinal Lane
Austin, TX 78704
Austin is known for its creativity. Situated on the Colorado River, proudly eclectic Austin is known as the Live Music Capital of the World. For a visual tour of Austin, visit the Pinterest site:
http://www.pinterest.com/visitaustintx/
Woodland/Wedding Design Workshop
Class size limited to 20 students. Create and keep your designs.
Lunch 12PM to 1PM: there are restaurants in the neighborhood or bring your own or "stay in" for lunch with a special menu provided by Eudora's Cuisine.
Please bring your own tools, i.e. clippers, scissors, wire cutters and knives.
Tuesday March 4 – Woodland Arrangements, Day I
In this workshop you will learn the mechanics behind creating textural and detailed designs that will expand the way you think about flowers. We will discuss and design personal flowers, unique centerpieces and ceremony arrangements. This workshop offers practical, hands-on experience that will further develop your own skills and increase your confidence to explore outside the box. After a demonstration of techniques and mechanics, you will design your own pieces.
Wednesday March 5 – Woodland Arrangements, Day II
For Françoise, the Woodlands sprouted from a childhood memory that took a life of its own. Using foliage, bark, berries, seedpods, twigs, mushrooms, herbs and some flowers, we'll explore how to make woodland bouquets as well as centerpieces. You will hone your artictic talents and will be encouraged to listen to your own intuition and further your own vision.
photos: Nicole Wickens & Sara Gray
Price $1000
Register for the Workshop
Price $1,000
to RSVP or for more information
Workshop Info
Françoise Weeks
Atelier Botanique Françoise Weeks
francoise@francoiseweeks.com
503-236-5829
Lodging Info
Brooke Howsley
Pollen Floral Art
brooke@pollenfloralart.com
512-586-8913
Joni Photo
Jamie Bosworth Photographer
Falcusan Photography
Joni Photo
photo: Sara Gray
photo: Lincoln Barbour
Joni Photo
Joni Photo
Jamie Bosworth  Photographer
Jamie Bosworth Photographer
photo: Nicole Wickens
photo: Nicole Wickens
photo: June Lion
photo: Ted Mishima
photo: Ted Mishima
photo: Ted Mishima
photo: Ted Mishima
Foto Vitae
photo: Alan Weiner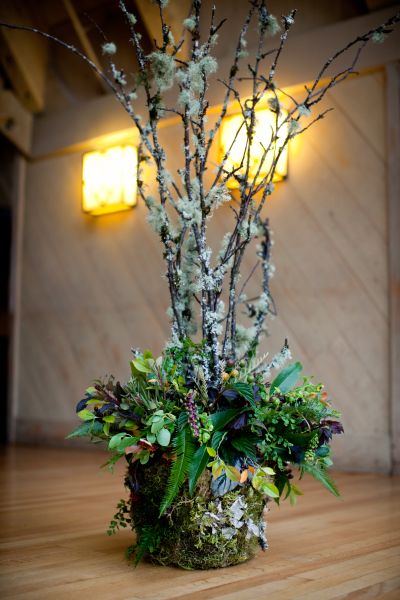 Foto Vitae
Testimonial from Janet Martineau, OH, who took the woodland workshop in January 2013:
As a florist, I have loved Françoise Weeks' work for years.  I would look at her arrangements and wonder "How did she do that?"  I finally attended her Woodland Design Workshop at the end of January – I should not have waited so long.
Françoise has a vast set of techniques, mechanics, and secrets to teach, but encourages you to pursue your own ideas when inspiration strikes.  She works through projects with you, and assists with the simple mechanics so that you can focus your time and efforts on exploring designs and creating multiple pieces.  I walked out of her workshop with a completely new style in my repertoire, and enough photos of my creations that I am already selling my new style to brides.
Her beautiful studio is just bursting with unique flowers, foliage, succulents, branches, mosses and pods.  It was hard to know where to start.  I was so inspired to create that it seemed as if each day passed too quickly.  I left Portland invigorated and hungry for more; even three weeks later I am recording new ideas in my sketch book daily.
Françoise is a passionate artist and a generous mentor.   This workshop was not only a joy to take, but a valuable investment in the future of my business.  I plan to attend the Botanical Couture Workshop next.  Thank you for being so open with your knowledge, resources, and time Françoise!
Janet Martineau, Cincinnati, OH