Workshop in New York on April 30 and May 1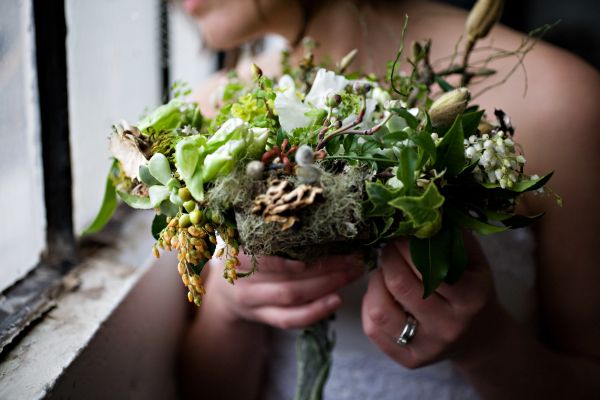 photo: Nicole Wickens
Wednesday and Thursday, April 30 & May 1, 2014, 9AM to 4PM each day
Hosted by Tricia Malys of:
Located in New York's Chelsea neighborhood
Woodland and Botanical Couture Workshop
Class size limited to 5 students! Create and keep your designs.
Please bring your own tools, i.e. clippers, scissors, wire cutters and knives.
Lunch 12PM to 1PM: bring your own or there are restaurants in the neighborhood.
Price $1185
Register for the Workshop
Price $1,185
In this workshop you will learn the mechanics behind creating textural and detailed designs that will expand the way you think about flowers. We will discuss and design personal flowers, unique centerpieces and ceremony arrangements. This workshop offers practical, hands-on experience that will further develop your own skills and increase your confidence to explore outside the box. After a demonstration of techniques and mechanics, you will design your own pieces.
For Françoise, the Woodlands sprouted from a childhood memory that took a life of its own. Using foliage, bark, berries, seedpods, twigs, mushrooms, herbs and some flowers, we'll explore how to make woodland bouquets as well as centerpieces. We'll discuss color, texture, form, ideas and techniques.
Thursday, May 1 – Botanical Couture
We'll explore different ideas for botanical purses as centerpieces and will discuss sourcing materials and the mechanics involved to create a wide variety of these unique designs. The afternoon session will focus on botanical headpieces.
Joni Photo
to RSVP or for more information
Workshop Info
Françoise Weeks
Atelier Botanique Françoise Weeks
francoise@francoiseweeks.com
503-236-5829
Lodging Info
Tricia Malys
Tricia M. Florals – nearby lodging
tricia@triciamflorals.com
917-228-4970
photo: June Lion
photo: Summer McCorkle
photo: Sara Gray
photo: Jamie Bosworth
Falcusan Photography
Joni Photo
Joni Photo
Joni Photo
Joni Photo
photo: June Lion
photo: Ted Mishima
photo: Ted Mishima
Joni Photo
Joni Photo
Joni Photo
Testimonial from a student:
I never imagined a teacher could be such an extraordinary source of inspiration.  Françoise Weeks generously shares her years of floral expertise with students while enlightening them about her signature woodlands and botanical couture styles that she has become famous for.  To study with her is a gift from the floral master herself.  Run, don't walk, to sign up for one of Françoise's classes. This hands-on adventure will be one of the most inspirational and energizing floral experiences you will ever have!
Mindy Rosenberg,  Hillsborough, CA