Botanical Couture Workshop in the Studio on June 23, 24 & 25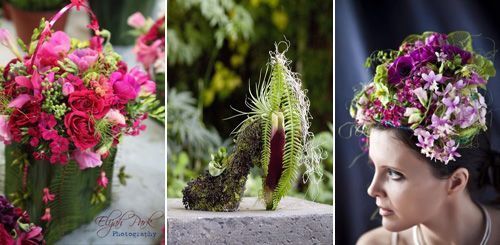 photos: Elijah Park, Joni Shimabukuro, Ted Mishima
In this workshop on Botanical Couture  you will learn the mechanics behind creating sumptuous designs that mimic objects in our everyday lives. Ornate botanical purses and shoes,  headpieces and jewelry, will expand the way you think about flowers! Françoise shares the techniques she has honed in the creation of these beautifully-crafted floral designs. To stand alone as centerpieces or to be worn as an elegant fashion statement, these couture pieces delight and amuse.
This class offers practical, hands-on experience that will further develop your own skills and repertoire and increase your confidence to think outside the box. After a demonstration of floral techniques and mechanics, you will design your own pieces. You will hone your artistic talents, and will be encouraged to listen to your intuition and further your own vision. Classes are limited to five students to ensure valuable individual attention.
Dates: Monday June 23, Tuesday June 24  and Wednesday June 25

Time: 9am til 4pm (1 hour lunch break)
Where: At Françoise's Studio
Cost: $1,100 – A 50% deposit is requested to reserve your space; the balance is due June 9.

For more information, please call 503-236-5829 or check my website
Examples of pieces that you will make:
photo: Ted Mishima
photo: Ted Mishima
photo: Ted Mishima
photo: Ted Mishima
photo: ted Mishima
photo: ted Mishima
photo: Ted Mishima
photo: Ted Mishima
Here is a video of a botanical couture photo shoot that Ted Mishima did in February. The model is Amanda Hathaway