Françoise is coming to Detroit, MI!
Monday and Tuesday, October 12 & 13, 2015, 9AM to 4PM each day
Hosted by Susan McLeary of:
Located at Honor & Folly Inn
2132 Michigan Ave.
Detroit, MI 48216
Wedding and Botanical Couture Workshop
Class size limited to 15 students! Create and keep your designs.
Your work will be professionally photographed.
Please bring your own tools, i.e. clippers, scissors, wire cutters and knives.
Lunch: bring your own or we can order out.
Register for the Workshop
Price $1,185
Monday, October 12 – Wedding/Personal Flowers
We will review different styles of bouquets: woodland, cascading, whimsical,…. In the afternoon we will focus on wrist corsages and botanical jewelry.
We'll discuss color, texture, form, ideas and techniques.






Tuesday, October 13 – Botanical Couture
We'll explore different ideas for botanical headpieces and will discuss sourcing materials and the mechanics involved to create a variety of these unique designs. The afternoon session will focus on botanical purses.
On Tuesday afternoon a professional photographer will be on hand to take pictures of students' designs for their portfolio.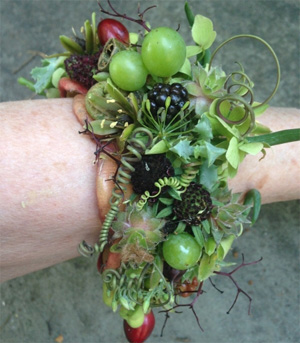 to RSVP or for more information
Workshop Info
Françoise Weeks
francoiseweeks.com
francoise@francoiseweeks.com
503-236-5829
Lodging Info
Susan McLeary
Passionflower
susan@passionflowerevents.com
734-678-5192