Announcing the 2015 Workshop Schedule
It was a total leap  of faith when less than two years ago I finally had the courage to take the workshops on the road. For a long time many encouraged me to do so, but  there were so many unknowns that held me back: Who would host the workshops? How would I be ensured that all the product I needed would be available? What would be the best way to market them… Not in my wildest dreams did I ever imagine what this decision would lead to. This past year I have had the good fortune to teach from California to New York and from Texas to Michigan. In June Holly Chapple and I co-taught in Sydney, Australia and in October I went to Hawaii for the first time.
I wanted to extend a huge thank you to all of you who hosted the classes: Florabundance, Brooke Howsley,  Holly Chapple, Alexandra Jusino, Trisha Malys,  Studio Choo,  Michelle Van Eimeren, Susan McLeary and Lisa Giamoyris Almeida – you all  were so incredibly helpful and made teaching a workshop at your conference or  in your studio a memorable experience.  I met so many talented students and had the opportunity  to visit quite a few flower markets and flower farms. In Australia and Hawaii I was delighted to discover many flowers and plants that I never had seen before.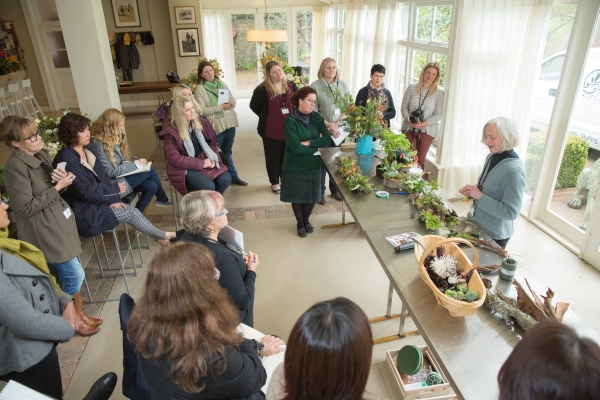 workshop in Sydney – photo: Jonathan Dear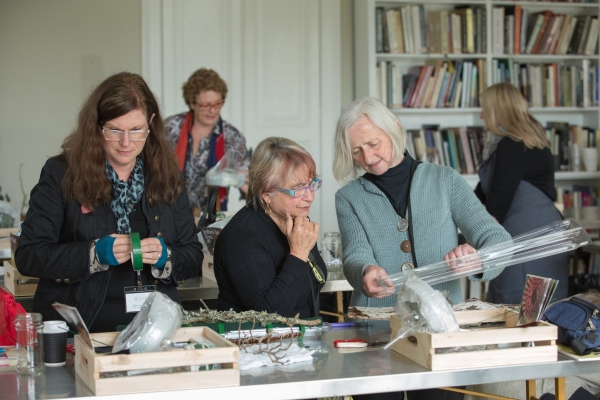 workshop in Sydney – photo: Jonathan Dear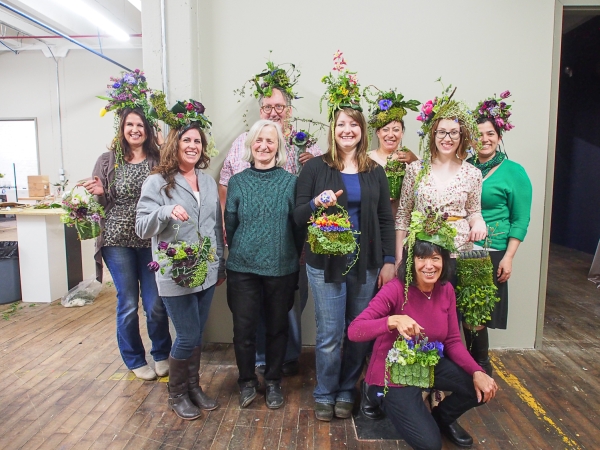 workshop in Chicago – photo: Trish Van de Merkt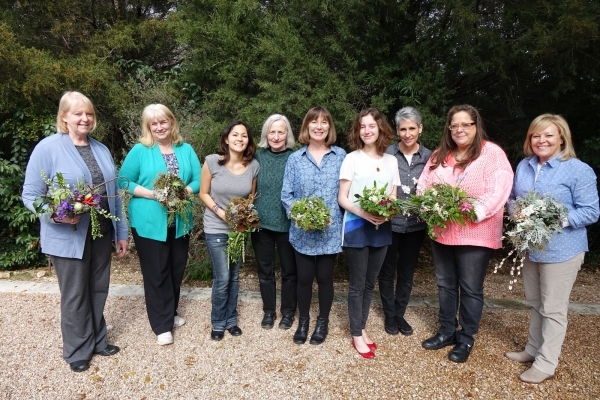 workshop in Austin – photo Dave Maguire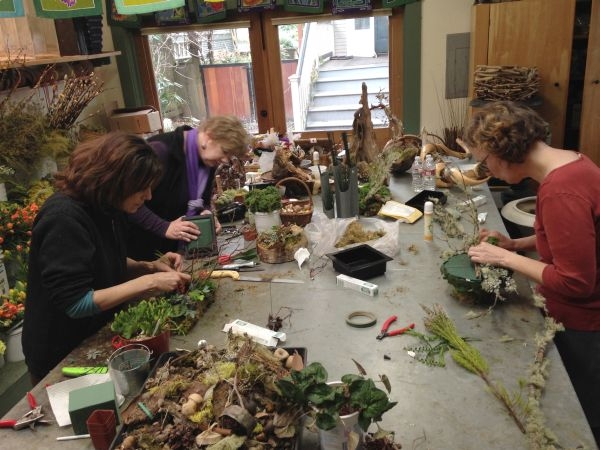 workshop in the studio
It has been such a delight to share a multitude of information, mechanics, techniques and ideas  here in the studio  (students have come from as far as Switzerland to Australia and from all over the US) as well as out-of-state. Lively discussions about business issues, social media marketing and design are followed by hands-on work. Observing how everyone interprets all the information, which types of flowers and textures each students chooses and watch how everyone's work takes shape is fascinating – it makes my heart sing! I simply cannot think of more satisfying work. Here is what some of the students have to say:
"My life and my work will never be the same. You are gracious, humble, talented beyond belief, and just a genuinely lovely person. Thank you for so kindly sharing your amazing knowledge with us. I look forward to welcoming you to South Africa one day."
Coral Shortt, Cape Town, South Africa – (Workshop in Australia)
"I drove 8 hours to attend Françoise's workshop.  It was worth every mile.  Françoise's style and techniques helped to expand my floral design skills.  Working with more vegetation than flowers requires thinking about 3 dimensions, textures, space and movement.  Françoise provides great demonstrations, lots of techniques and a gentle and supportive environment that allows participants to  practice while creating their own style.  To me, this was the next leap I needed in my floral design career.  This is very trendy and eco chic."
Jana Mayfield, Fayetteville, AR – (Workshop in Austin, TX)
"I love the way 1 project can look 4 completely different ways with all the same plant material!".. This was the best part of the Woodland Botanical Workshop that I took with Françoise Weeks in NYC last week. The plant material was fresh and plentiful and were introduced to Françoise's magical woodland childhhood vacationing in the mountains of Switzerland gathering botanical ornaments to deocorate and adorn her greenery and floral arrangements.  We were in a private floral studio in a very chic NYC neighborhood just blocks from the flower district.The group was small so we had one on one instruction from Françoise and plenty of time to complete each project. Another plus of our intimate group was the talent of the students and their fresh design ideas and what they did with the techniques we learned . Each design was worthy of a magazine cover! Inspiration is always sparked when different perspectives can be shared and discussed. Her mechanics were straightforward and do-able, we were allowed to let our creativity guide us. Going forward, I will now look at greenery and natural elements to include to enhance my floral designs.  Thanks so much Françoise!"
Kristin Kern, New York, NY
I recently attended a 3 day Wedding Design Workshop with Françoise Weeks. The workshop was held in her backyard studio and from the moment I walked in, I felt at home. In 3 days, I learned so many big and little aspects of wedding design as well as the floral industry in general.
Françoise speaks from her soul, a place of love, experience, and dedication to something that has been a part of her life since she was a toddler in Belgium – flowers.
We learned the surprising mechanics behind her beautiful floral designs (I will never look at a yogurt carton, zip tie, or aspidistra leaf in the same way). She took the time to get to know us and catered much of the workshop helping each of us accordingly. We spent the last part of each day creating and being inspired by all of the textures and flowers that were available to us. She was generous in letting us use anything we wanted from her studio and allowing us stay later to finish our pieces. She truly didn't care. She posted our designs on Instagram and couldn't wait to share all of the "likes" we'd received. While we acted nonchalant, we were delighted.
We came away with a binder full of notes and our heads bursting with a new desire to get creative and start sowing our seeds.
I would highly recommend a workshop or class taught by Françoise Weeks. Your soul will thank you.
Kris Lynch, Seattle, WA
"I came to Françoise's Wedding Design Workshop at her Portland studio as a passionate gardener and aspiring floral designer with virtually *no* training–and what felt like a crazy dream of starting a floral design business for weddings and events. I came away bursting with ideas for creating innovative designs and promoting my brand-new business, plus all of the hands-on skills to do an absolutely beautiful, professional event, and the courage to go for it. Françoise is a marvelous artist, but she's so practical and generous with her knowledge that all of us felt free to ask even the most mundane questions. She welcomed us into her world, sharing her discoveries, tricks, and disaster stories. We were encouraged to draw from the abundance of fabulous flowers, foliage, and even veggies she had on hand, and she took us on a delightful tour of the Portland Flower Market, pointing out her favorite supplies and materials. I think these three days saved me a year (or several!) of trying to figure things out through other channels, making this some of the best–and most fun–money I've ever spent. I'm looking forward to returning for future workshops with Françoise!"
Mari Malcolm, Seattle, WA
The schedule for next year is shaping up nicely. Besides teaching workshops in the studio and in many cities  in the US, I am thrilled to have the opportunity to teach a workshop at the studio of Olympia Frangos in Mexico City in February. In May we will be heading to England to teach a workshop in Devon, hosted by Tina Parkes with the Academy of Floral Art. After visiting the Chelsea show in London we will head to Suffolk to Claire Cowling's studio, who owns Thrive Floristry. And last but not least in September we will teach  at Cohim, a fashion training center in Bejing. In June I have been invited to do a presentation and teach a workshop at the Convention of the Florida State Florists Association in Orlando.
I say 'we' as I have the good fortune that my friend Jo Jarvis will come along to assist for all the workshops abroad as well as at the Convention in Florida. I cannot thank Jo enough for all her help in the last few months to organize everything.
Please click here to see the schedule or to register. If you have any questions please email francoise@francoiseweeks.com. I look forward to seeing you in 2015!